The Scottish Bookshop Mysteries
Wanted: A bold adventurer who wants to travel the world from a comfortable and safe spot behind a desk that has seen the likes of kings and queens, paupers and princes. A humble book and rare manuscript shop seeks a keenly intelligent investigator to assist us in our search for things thought lost, and in our quest to return lost items to their rightful owners.

Never an adventurer, no one was more surprised than Delaney Nichols when she packed her bags and moved halfway across the world to Edinburgh, Scotland to start a job at The Cracked Spine, a bookshop located in the heart of the city. Her new boss, Edwin MacAlister, has given her the opportunity of a lifetime, albeit a cryptic one, and Delaney can't wait to take her spot behind the desk.
The Cracked Spine is filled with everything a book lover could want, each item as eclectic as the people who work there; the spirited and lovable Rosie, who always has tiny dog Hector in tow; Hamlet, a nineteen-year-old thespian with a colored past and bright future; and Edwin, who is just as enigmatic and mysterious as Delaney expected. An extra bonus is Tom the bartender from across the street, with his cobalt eyes, and a gentle brogue—and it doesn't hurt that he looks awfully good in a kilt.
But before she can settle into her new life, a precious artifact goes missing, and Edwin's sister is brutally murdered. Never did Delaney think that searching for things lost could mean a killer, but if she's to keep her job, and protect her new friends, she'll need to learn the truth behind this Scottish tragedy.
The Vampire Knitting Club
At a crossroads between a cringe-worthy past (Todd the Toad) and an uncertain future (she's not exactly homeless, but it's close), Lucy Swift travels to Oxford to visit her grandmother. With Gran's undying love to count on and Cardinal Woolsey's, Gran's knitting shop, to keep her busy, Lucy can catch her breath and figure out what she's going to do.
Except it turns out that Gran is the undying. Or at least, the undead. But there's a death certificate. And a will, leaving the knitting shop to Lucy. And a lot of people going in and out who never use the door—including Gran, who is just as loving as ever, and prone to knitting sweaters at warp speed, late at night. What exactly is going on?
When Lucy discovers that Gran did not die peacefully in her sleep, but was murdered, she has to bring the killer to justice without tipping off the law that there's no body in the grave. Between a hot 600-year-old vampire and a dishy detective inspector, both of whom always seem to be there for her, Lucy finds her life getting more complicated than a triple cable cardigan. The only one who seems to know what's going on is her cat … or is it … her familiar?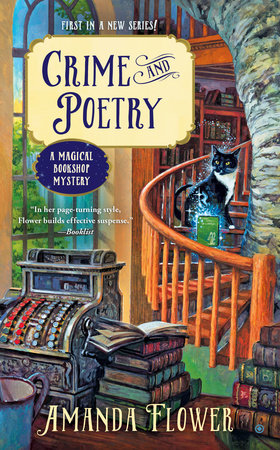 Mystery Bookshop Series
Rushing home to sit by her ailing grandmother's bedside, Violet Waverly is shocked to find Grandma Daisy the picture of perfect health. Violet doesn't need to read between the lines: her grandma wants Violet back home and working in her magical store, Charming Books. It's where the perfect book tends to fly off the shelf and pick you…
Violet has every intention to hightail it back to Chicago, but then a dead man is discovered clutching a volume of Emily Dickinson's poems from Grandma Daisy's shop. The victim is Benedict Raisin, who recently put Grandma Daisy in his will, making her a prime suspect. Now, with the help of a tuxedo cat named Emerson, Violet will have to find a killer to keep Grandma from getting booked for good…
Sassy Cat Mystery Series
Mimi Lee hoped to give Los Angeles animal lovers something to talk about with her pet grooming shop, Hollywoof. She never imagined that the first cat she said hello to would talk back or be quite so, well, catty—especially about those disastrous dates Mimi's mother keeps setting up.
When Marshmallow exposes local breeder Russ Nolan for mistreating Chihuahuas, Mimi steals some of her cat's attitude to tell Russ off. The next day the police show up at Hollywoof. Russ has been found dead, and Mimi's shouting match with him has secured her top billing as the main suspect.
Hoping to clear her name and save the pups Russ left behind, Mimi enlists help from her dreamy lawyer neighbor Josh. But even with Josh on board, it'll take Mimi and Marshmallow a lot of sleuthing and more than a little sass to get back to the pet-grooming life—and off the murder scene.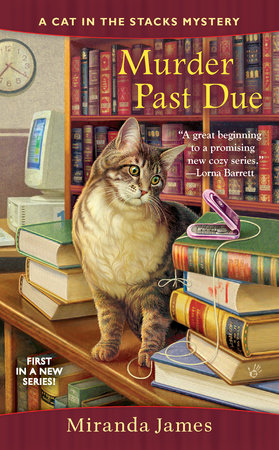 Cat in the Stacks Series
Everyone in Athena, Mississippi, knows Charlie Harris, the good-natured librarian with a rescued Maine coon cat named Diesel that he walks on a leash.  He's returned to his hometown to immerse himself in books, but soon enough he's entangled in a real-life thriller…
 
A famous author of gory bestsellers and a former classmate of Charlie's, Godfrey Priest may be the pride of Athena, but Charlie remembers him as an arrogant, manipulative jerk—and he's not the only one. Godfrey's homecoming as a distinguished alumnus couldn't possibly go worse: by lunch, he's put a man in the hospital. By dinner, Godfrey's dead.
 
Now it's up to Charlie, with some help from Diesel, to paw through the town's grudges and find the killer before an impatient deputy throws the book at the wrong person. But every last one of Charlie's friends and co-workers had a score to settle with the nasty novelist. As if the murder wasn't already purr-plexing enough…
Hannah Swenson Series
Take one amateur sleuth. Mix in some eccentric Minnesota locals. Add a generous dollop of crackling suspense, and you've got the recipe for this mystery series featuring Hannah Swensen, the red-haired, cookie-baking heroine whose gingersnaps are almost as tart as her comments and whose penchant for solving crime is definitely stirring things up.
While dodging her mother's attempts to marry her off, Hannah runs The Cookie Jar, Lake Eden's most popular bakery. But after Ron LaSalle, the beloved deliveryman from the Cozy Cow Dairy, is found murdered behind her bakery—with Hannah's famous Chocolate Chip Crunchies scattered around him—she's determined not to let her cookies get a bad reputation, so she sets out to track down a killer. But if she doesn't watch her back, Hannah's sweet life may get burned to a crisp.
A Tita Rosie's Kitchen Series
When Lila Macapagal moves back home to recover from a horrible breakup, her life seems to be following all the typical rom-com tropes. She's tasked with saving her Tita Rosie's failing restaurant, and she has to deal with a group of matchmaking aunties who shower her with love and judgment. But when a notoriously nasty food critic (who happens to be her ex-boyfriend) drops dead moments after a confrontation with Lila, her life quickly swerves from a Nora Ephron romp to an Agatha Christie case.
With the cops treating her like she's the one and only suspect, and the shady landlord looking to finally kick the Macapagal family out and resell the storefront, Lila's left with no choice but to conduct her own investigation. Armed with the nosy auntie network, her barista best bud, and her trusted Dachshund, Longanisa, Lila takes on this tasty, twisted case and soon finds her own neck on the chopping block…
A Fairy Garden Mystery Series
Since childhood, Courtney has loved fairies. After her mother died when Courtney was ten, she lost touch with that feeling of magic. A year ago, at age twenty-nine, she rediscovered it when she left her father's landscaping business to spread her wings and start a fairy garden business and teashop in beautiful Carmel, California. At Open Your Imagination, she teaches garden design and sells everything from fairy figurines to tinkling wind chimes. Now she's starting a book club tea.
 
But the light of the magical world she's created inside her shop is darkened one night when she discovers neighboring dog-grooming business owner Mick Watkins dead beside her patio fountain. To make matters worse, the police suspect Courtney of the crime. To clear her name and find the real killer, Courtney will have to wing it. But she's about to get a little help from an unexpected source . . .
A Book Binder Mystery Series
Brooklyn Wainwright is a skilled surgeon. Sure, her patients might smell like mold and have spines made of leather, but no ailing book is going to die on her watch. The same can't be said of Abraham Karastovsky, Brooklyn's friend and former employer. 
 
On the eve of a celebration for his latest book restoration, Brooklyn finds her mentor lying in a pool of his own blood. With his final breath Abraham leaves Brooklyn with a cryptic message, "Remember the Devil," and gives her a priceless—and supposedly cursed—copy of Goethe's Faust for safe-keeping. 
 
Brooklyn suddenly finds herself accused of murder and theft, thanks to Derek Stone, the humorless—and annoyingly attractive—British security officer who found her kneeling over the body. Now she has to read the clues left behind by her mentor if she is going to restore justice…
A Kitchen Witch Mystery Series
In the first in New York Times bestselling author Lynn Cahoon's Kitchen Witch series, Mia Malone is starting over in Magic Springs, Idaho—where murder is on the menu . . .
 
What's a kitchen witch to do when her almost-fiancé leaves her suddenly single and unemployed? For Mia Malone, the answer's simple: move to her grandmother's quirky Idaho hometown, where magic is an open secret and witches and warlocks are (mostly) welcome. With a new gourmet dinner delivery business—and a touch of magic in her recipes—Mia's hopes are high. Even when her ex's little sister, Christina, arrives looking for a place to stay, Mia takes it in stride.
 
But her first catering job takes a distasteful turn when her client's body is found, stabbed and stuffed under the head table. Mia's shocked to learn that she's a suspect—and even more so when she realizes she's next on a killer's list. With Christina, along with Mia's meddling grandma, in the mix, she'll have to find out which of the town's eccentric residents has an appetite for murder…before this fresh start comes to a sticky end. . . .
A Furry Friends Mystery Series
Ally Winter is going through a ruff patch. The thirty-something veterinarian lost her fiancé, her clinic, and her savings in rapid succession. So when Ally's grandfather undergoes hip replacement surgery, she moves back to Willow Bluff, Wisconsin, to care for him. She arrives home, tail between her legs, only to find sleazy lawyer Marty Shawlin murdered in his home office. And the only witness was Marty's faithful boxer, Roxy.
Quick as a greyhound, Noah Jorgensen is on the case. The good news is, he's the best detective around. The bad news, at least the way Ally sees it, is that Noah is still just as fetching as he was back in high school. He also just happens to have witnessed every embarrassing incident that befell accident-prone Ally–including the fire-ant attack that set tongues wagging and won her the unshakable nickname Hot Pants.
Meanwhile, true-crime aficionado Gramps fancies himself a sleuth, and he is doggedly determined to sniff out the culprit himself…with Ally's reluctant help, of course. Ally has no choice but to team up with Noah–and the irrepressible Roxy–to solve the case while keeping Gramps on a short leash.
Ally had better learn some new tricks, lickety-split. Because if she can't bring the killer to heel, she won't just be playing dead.